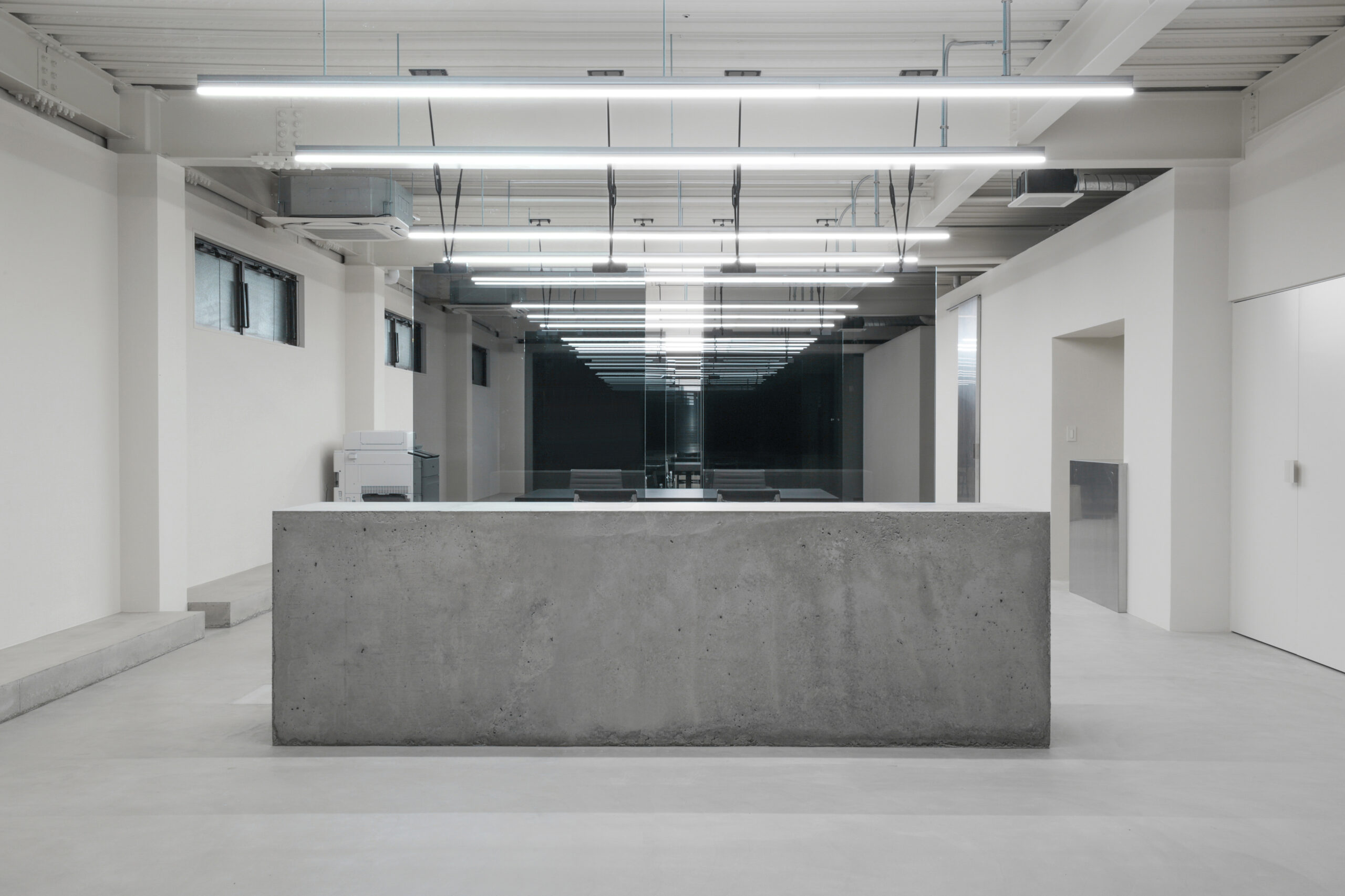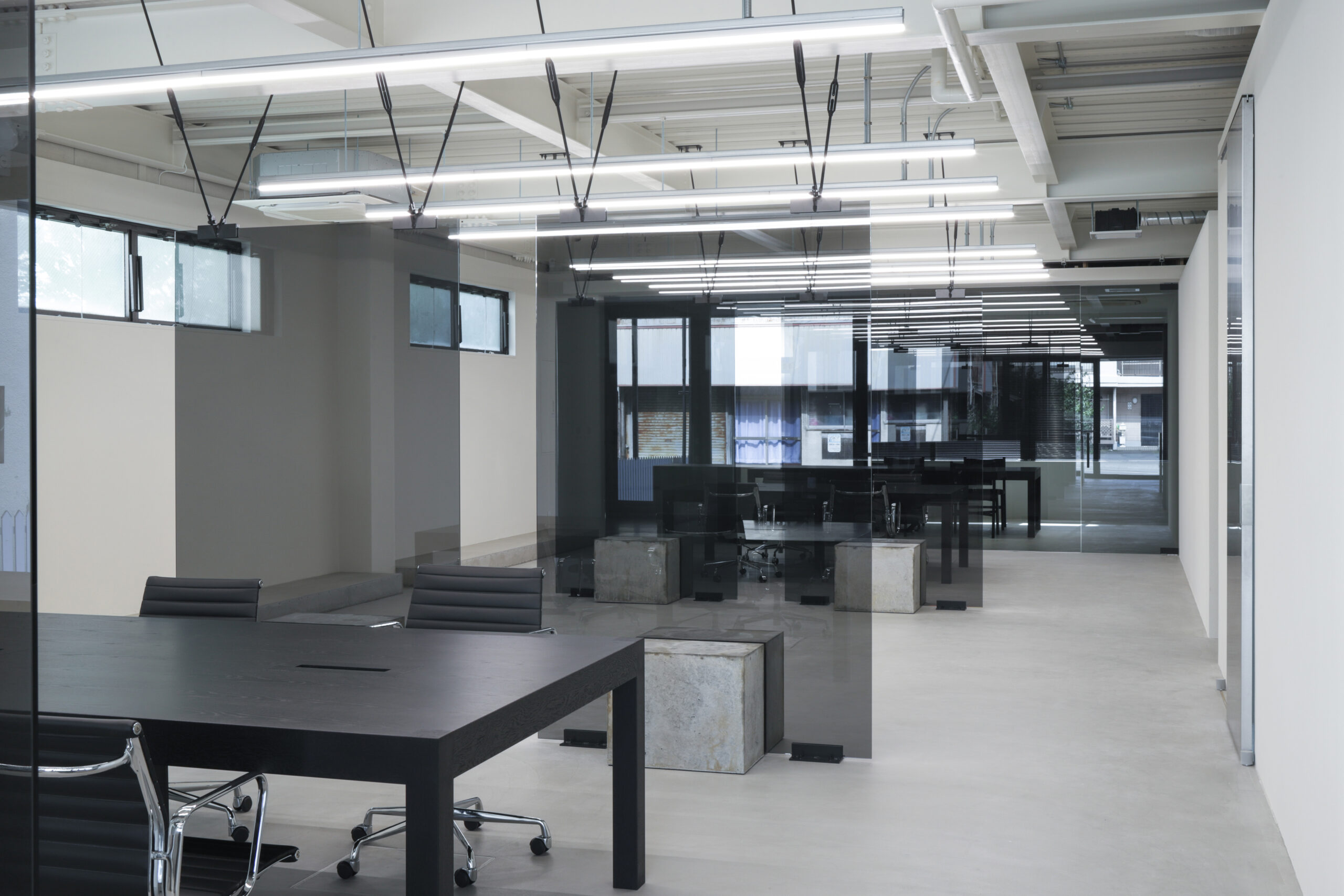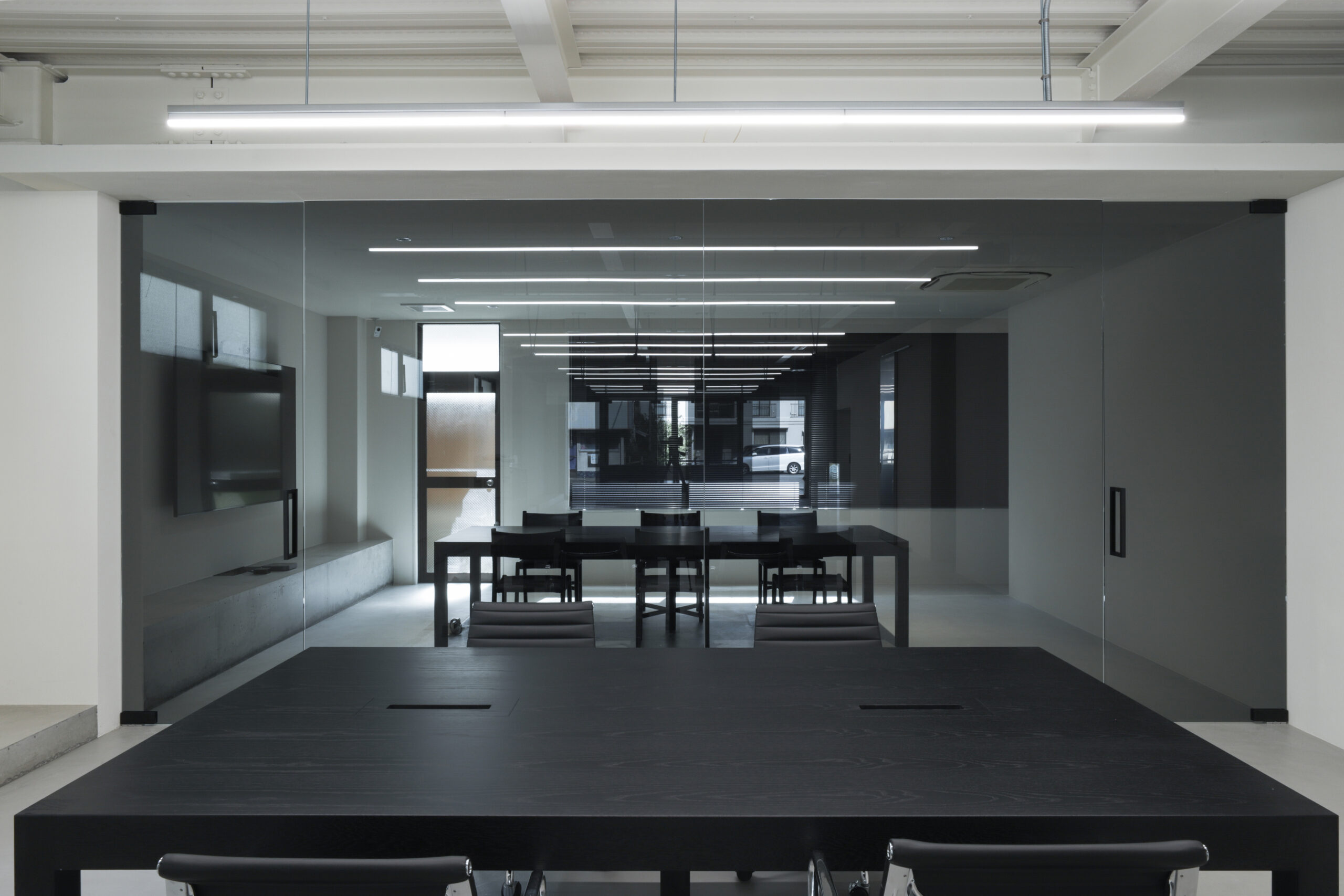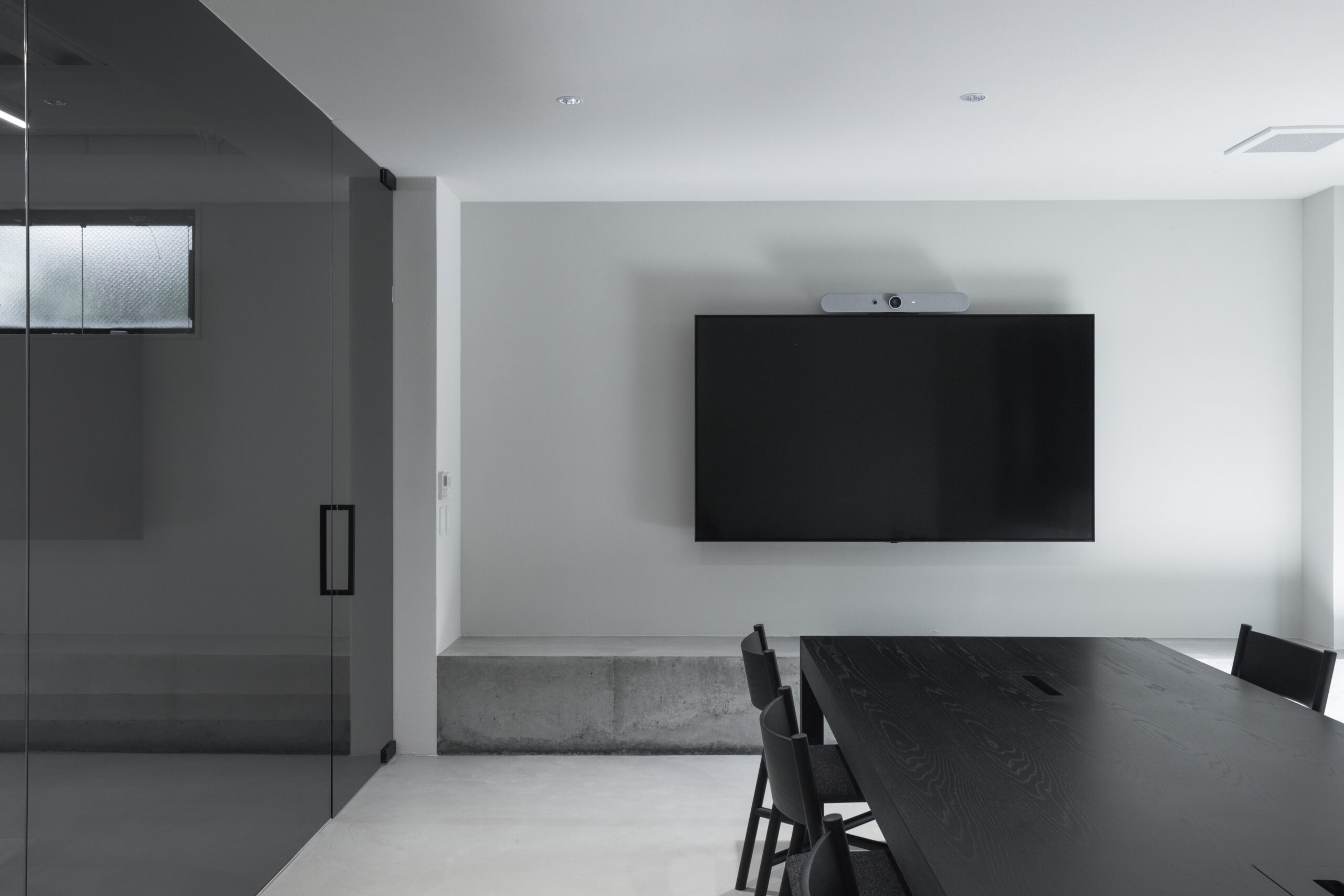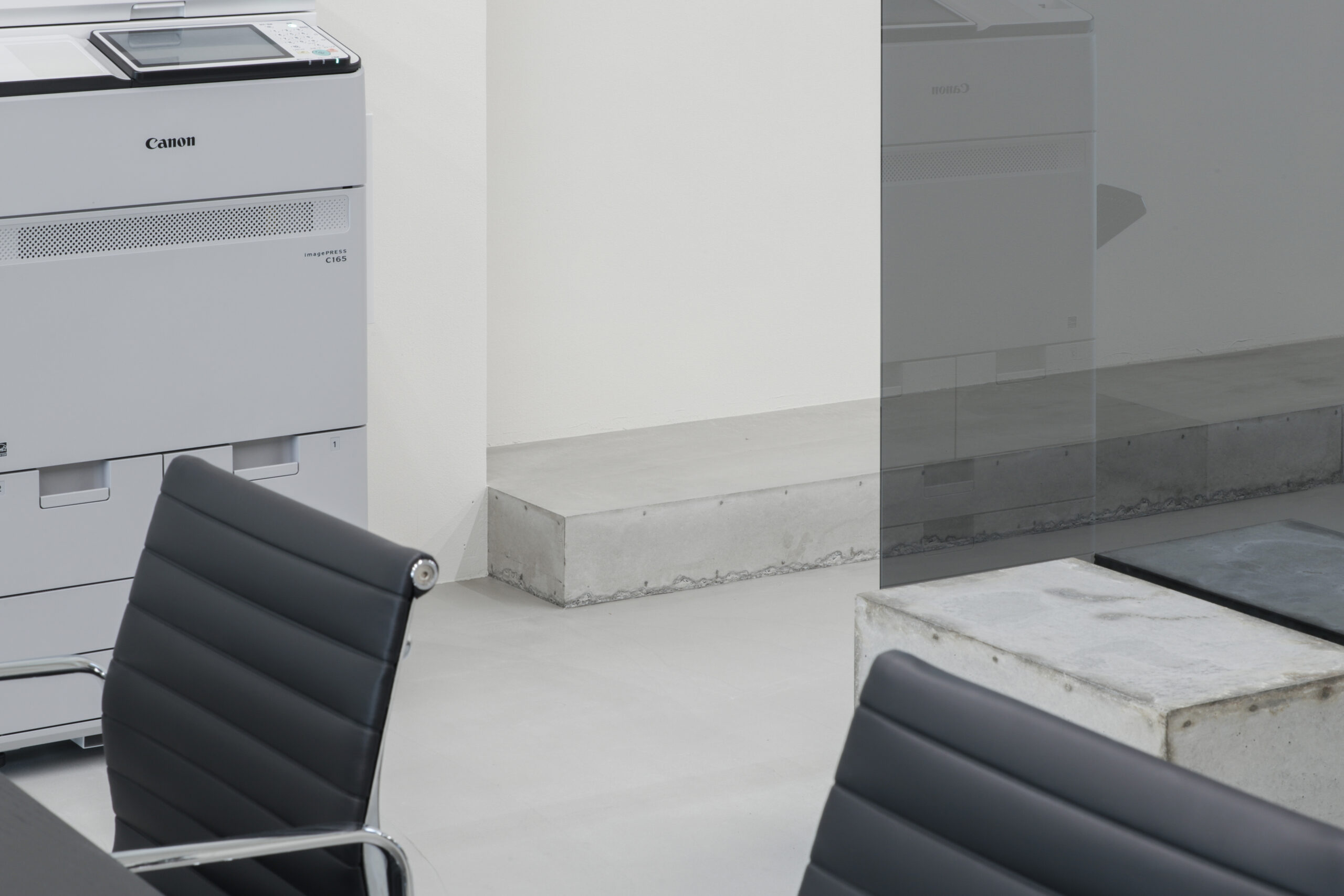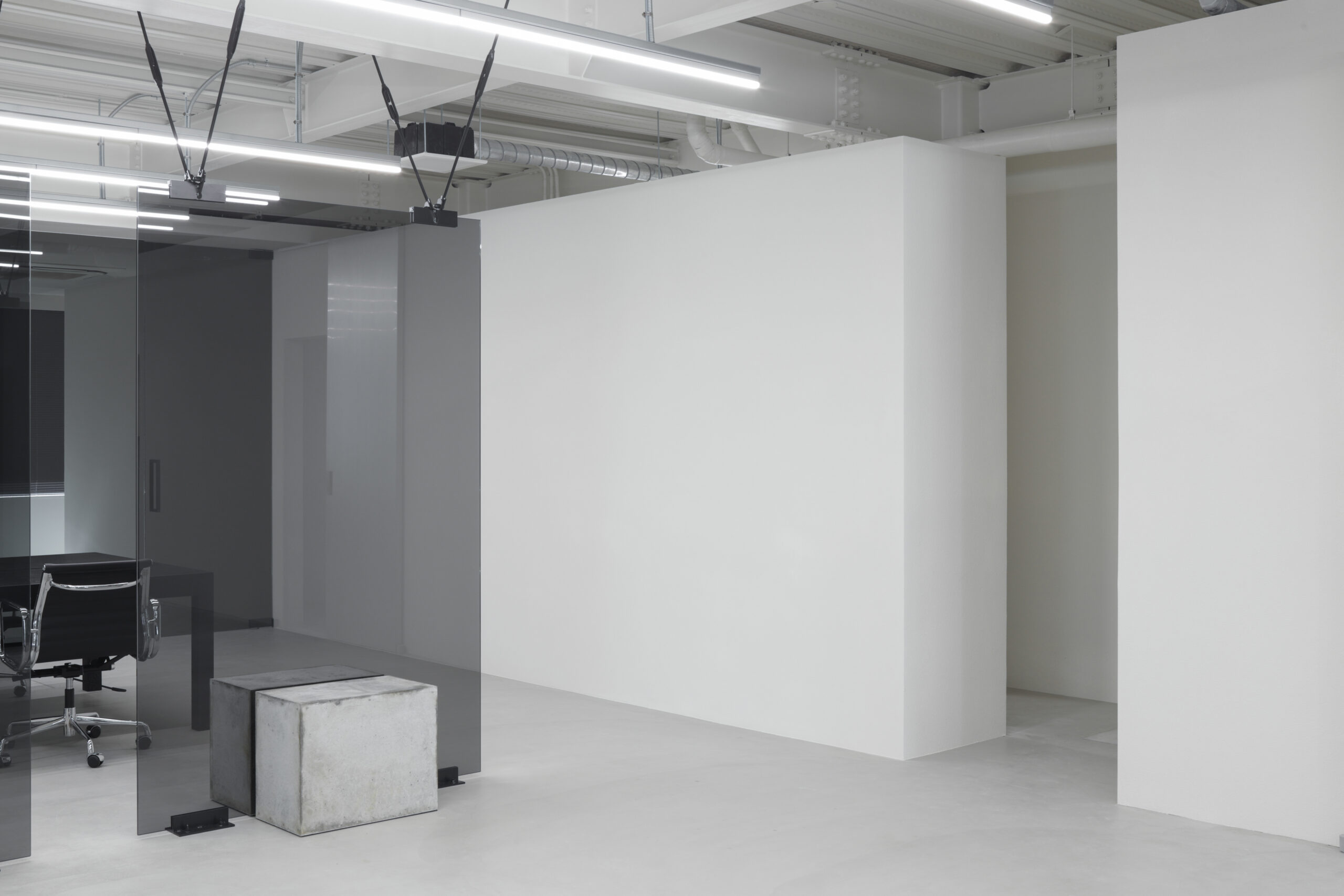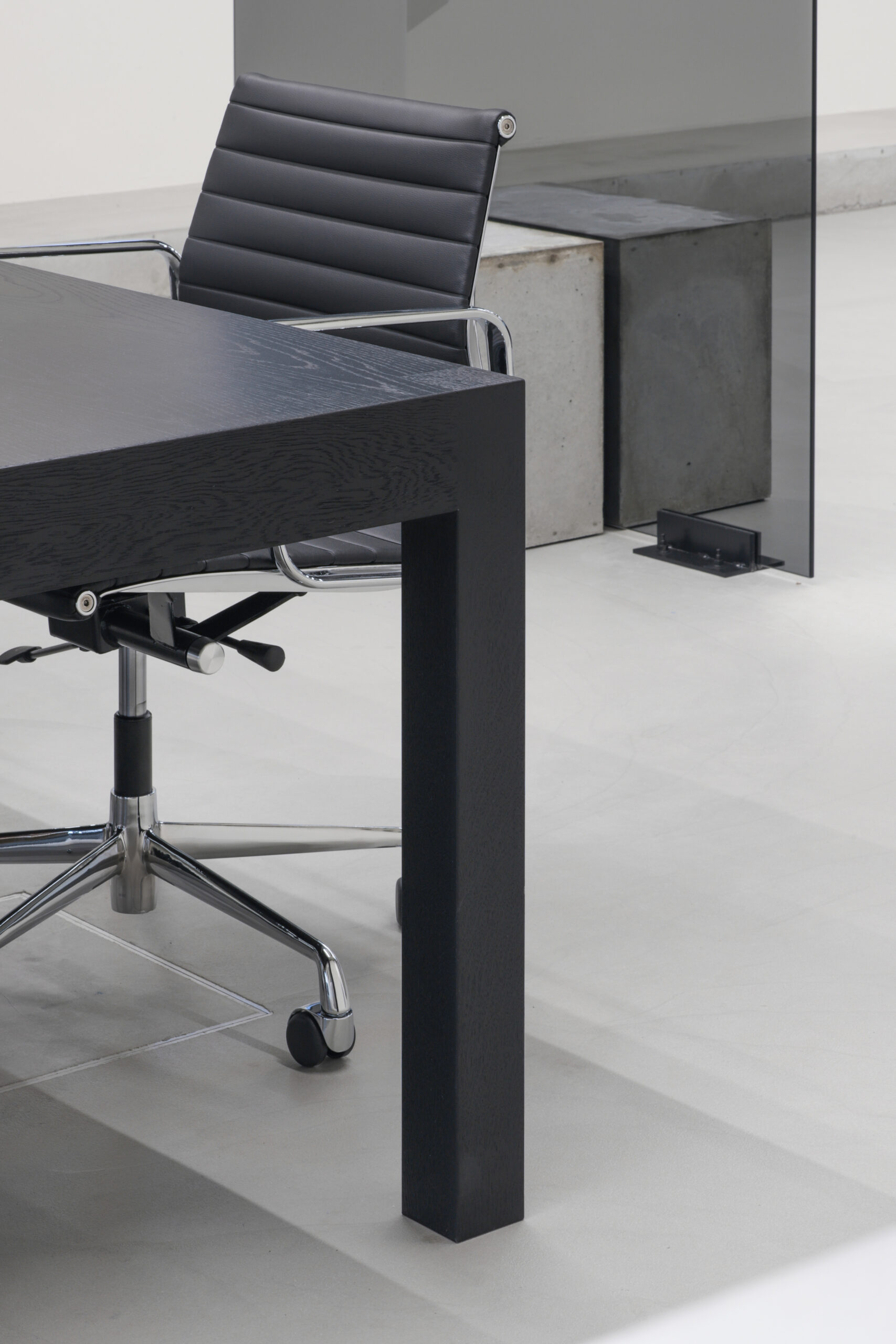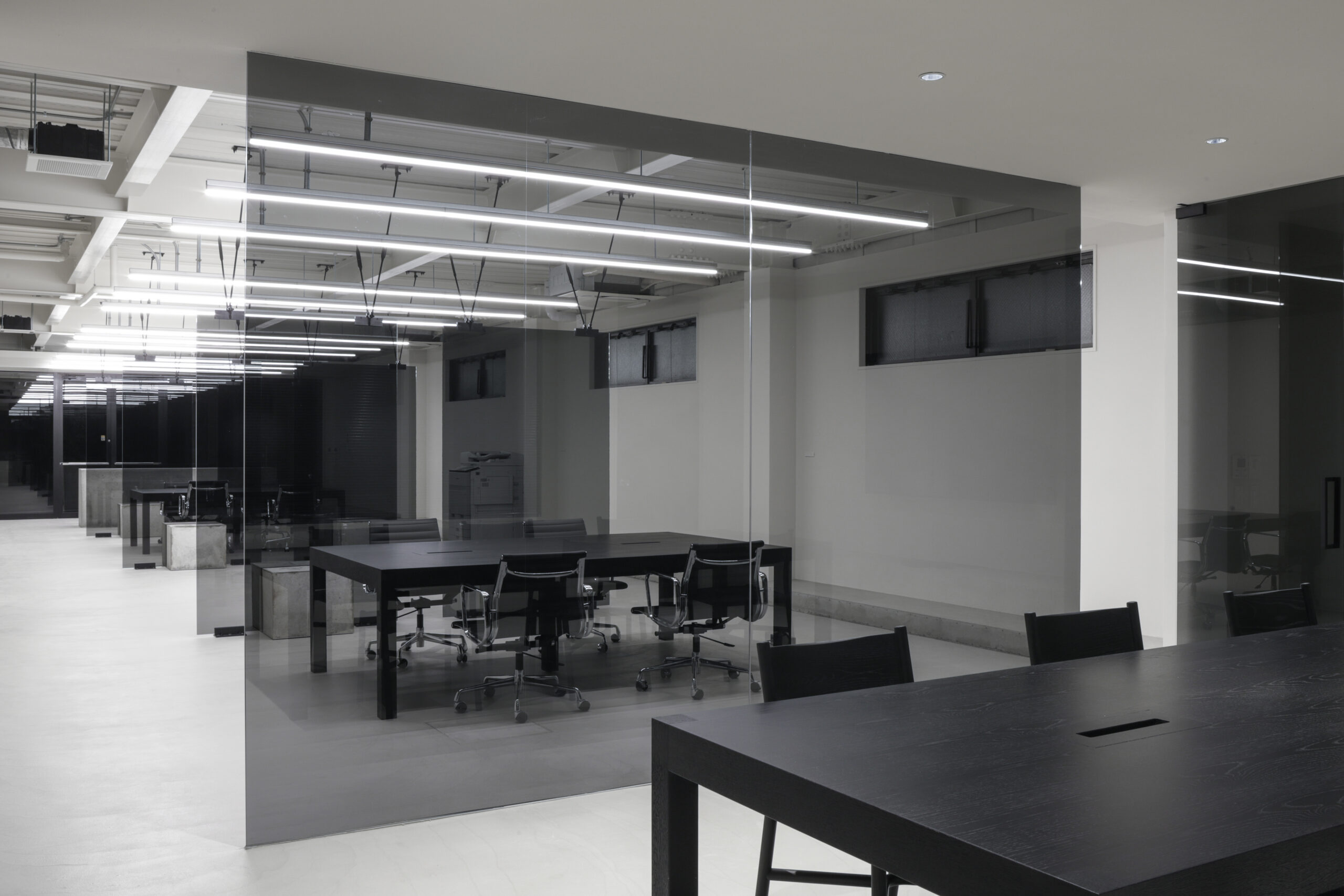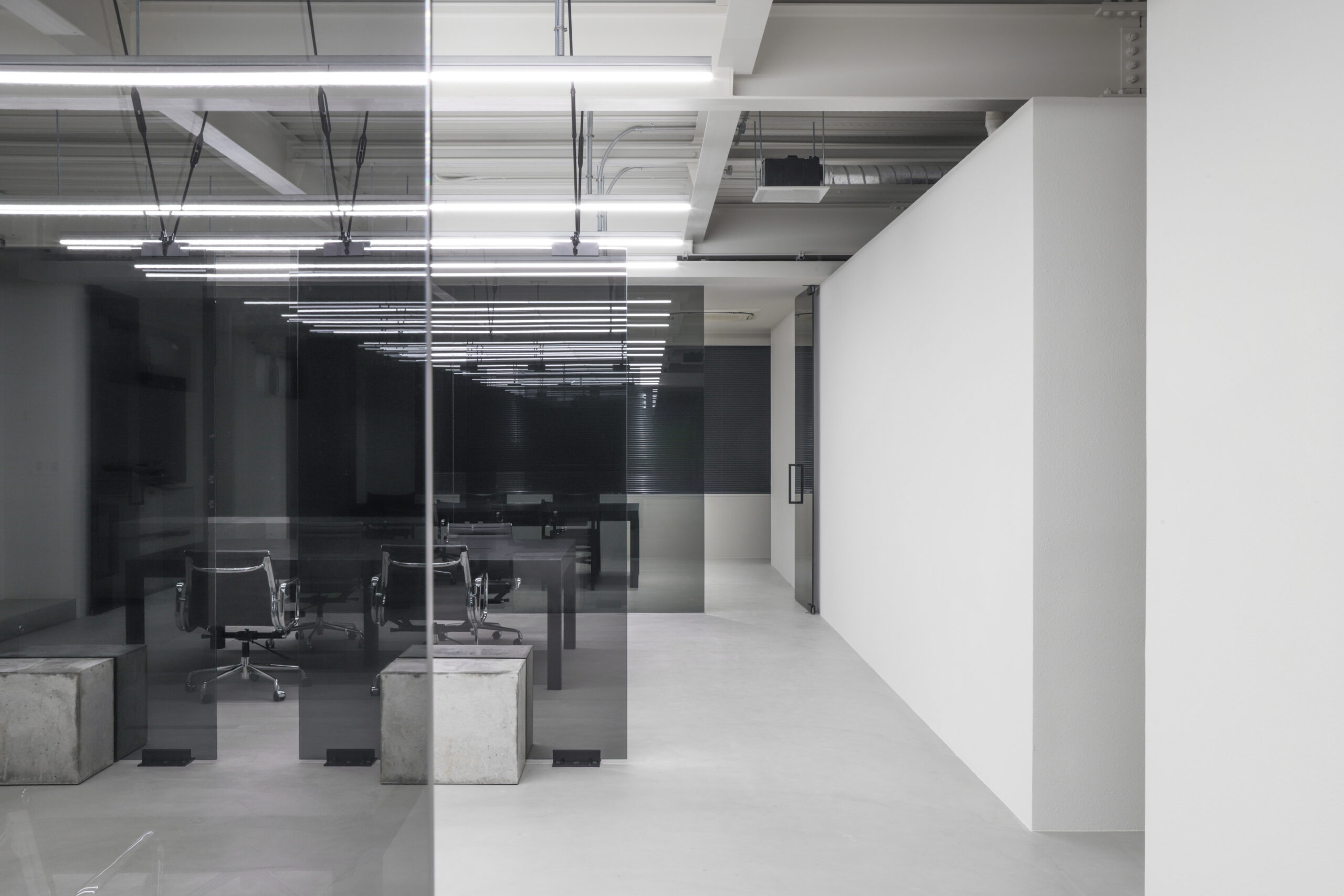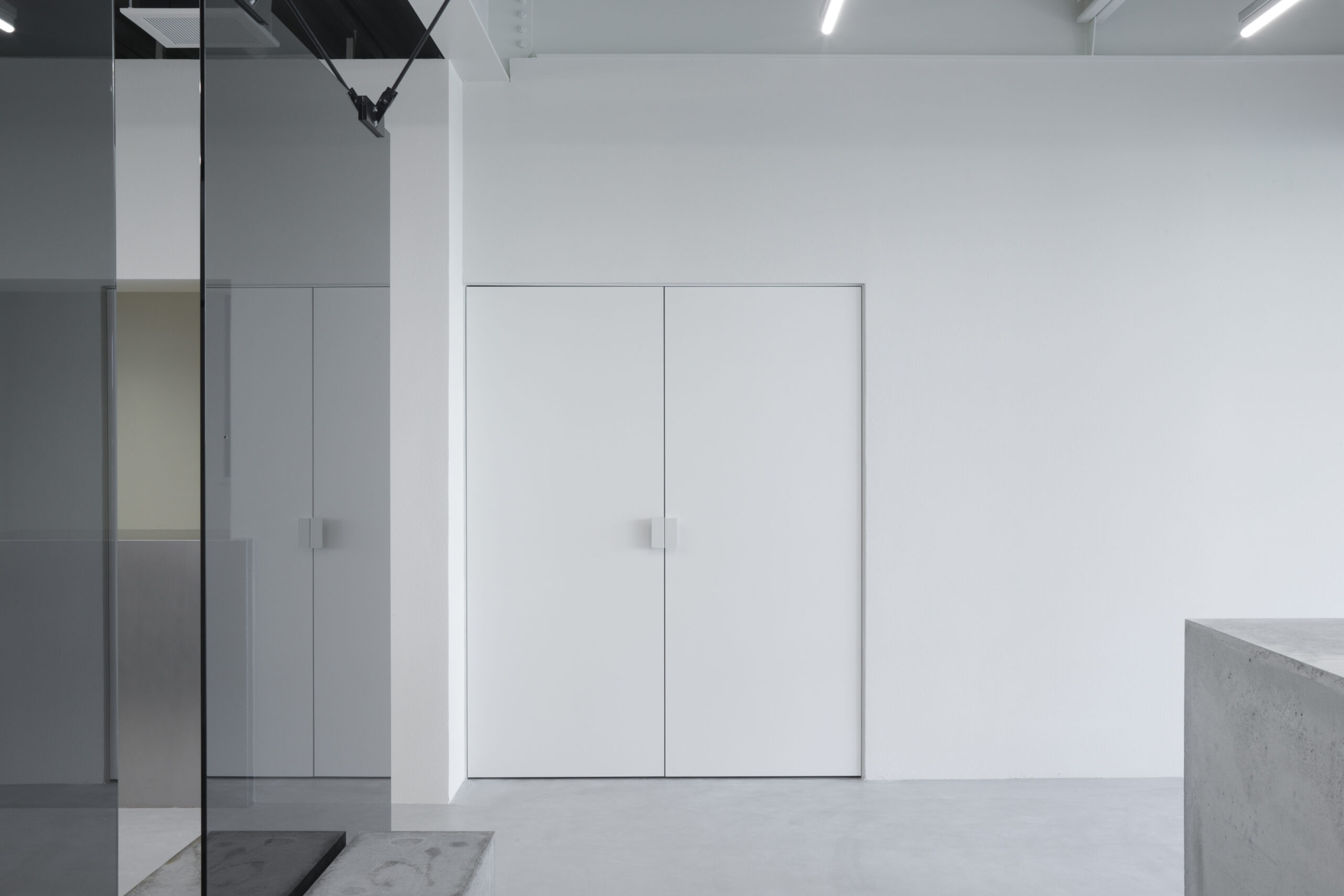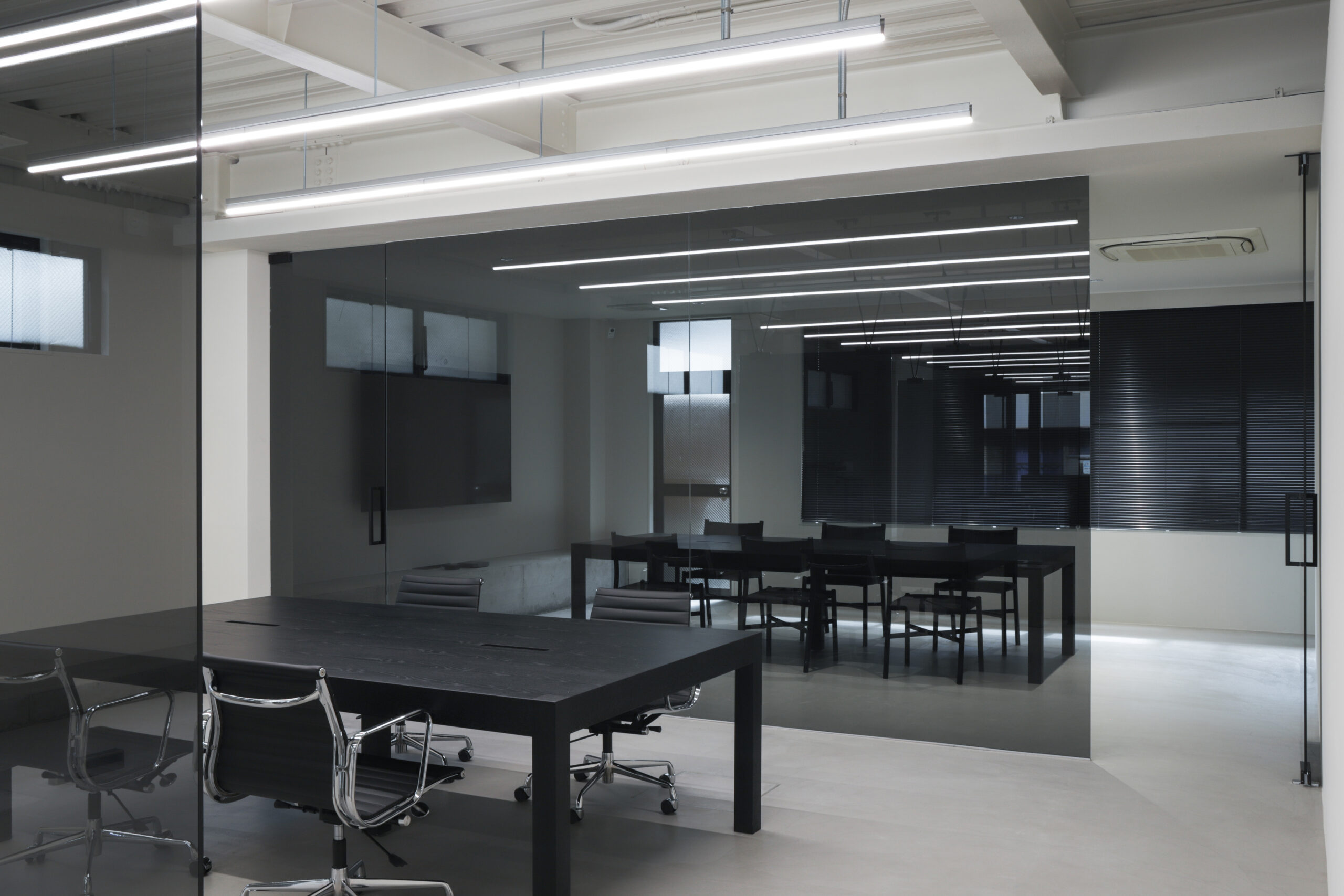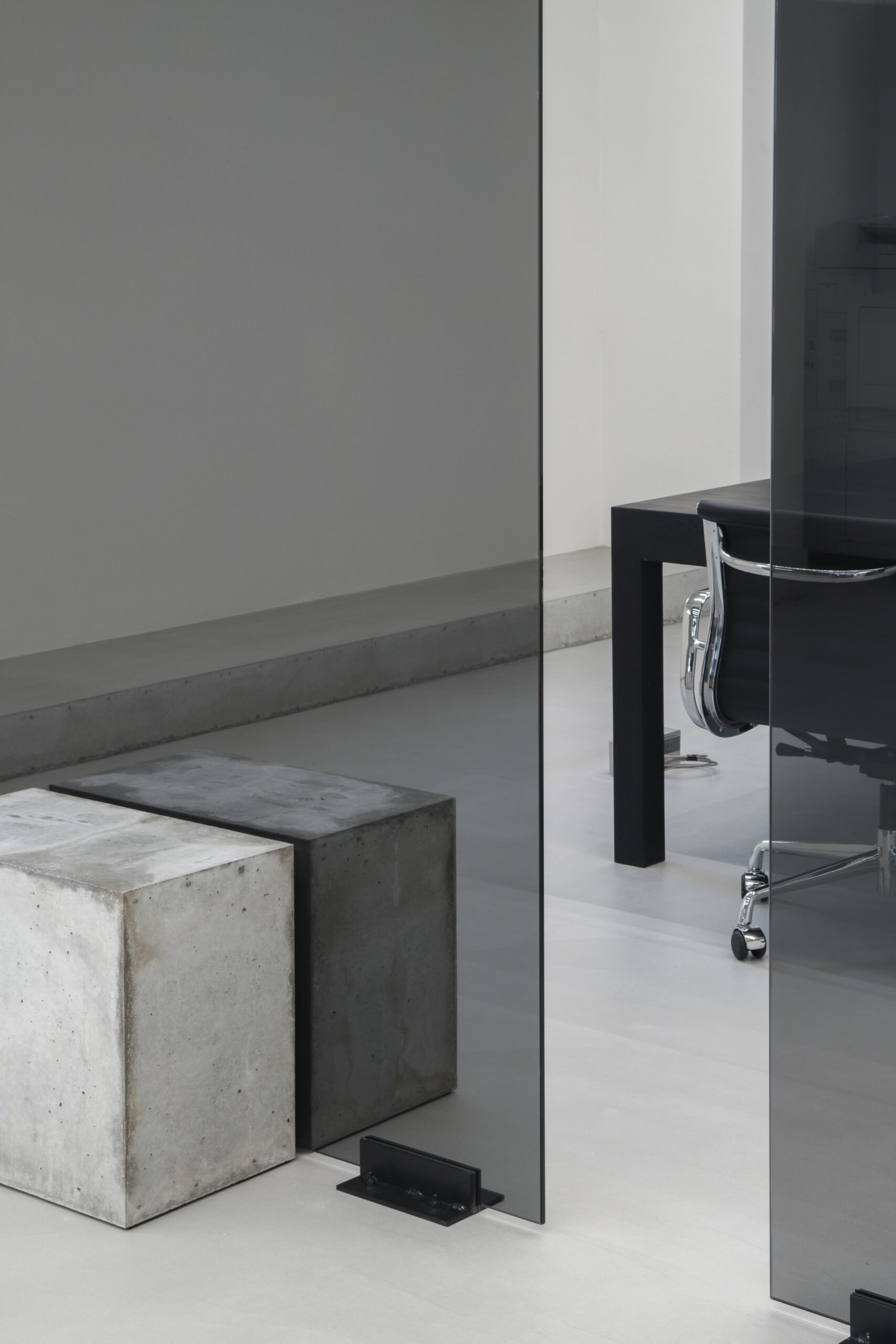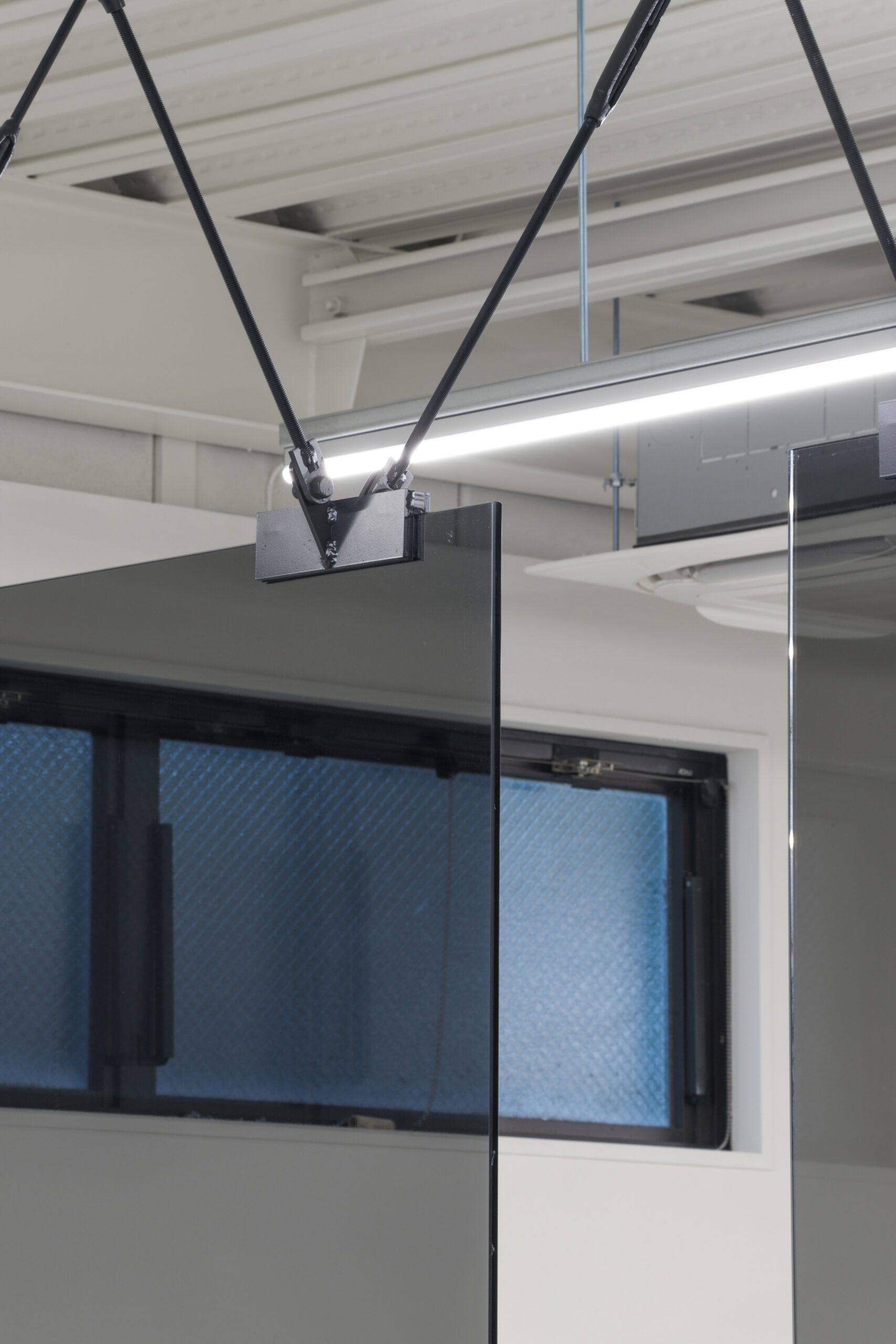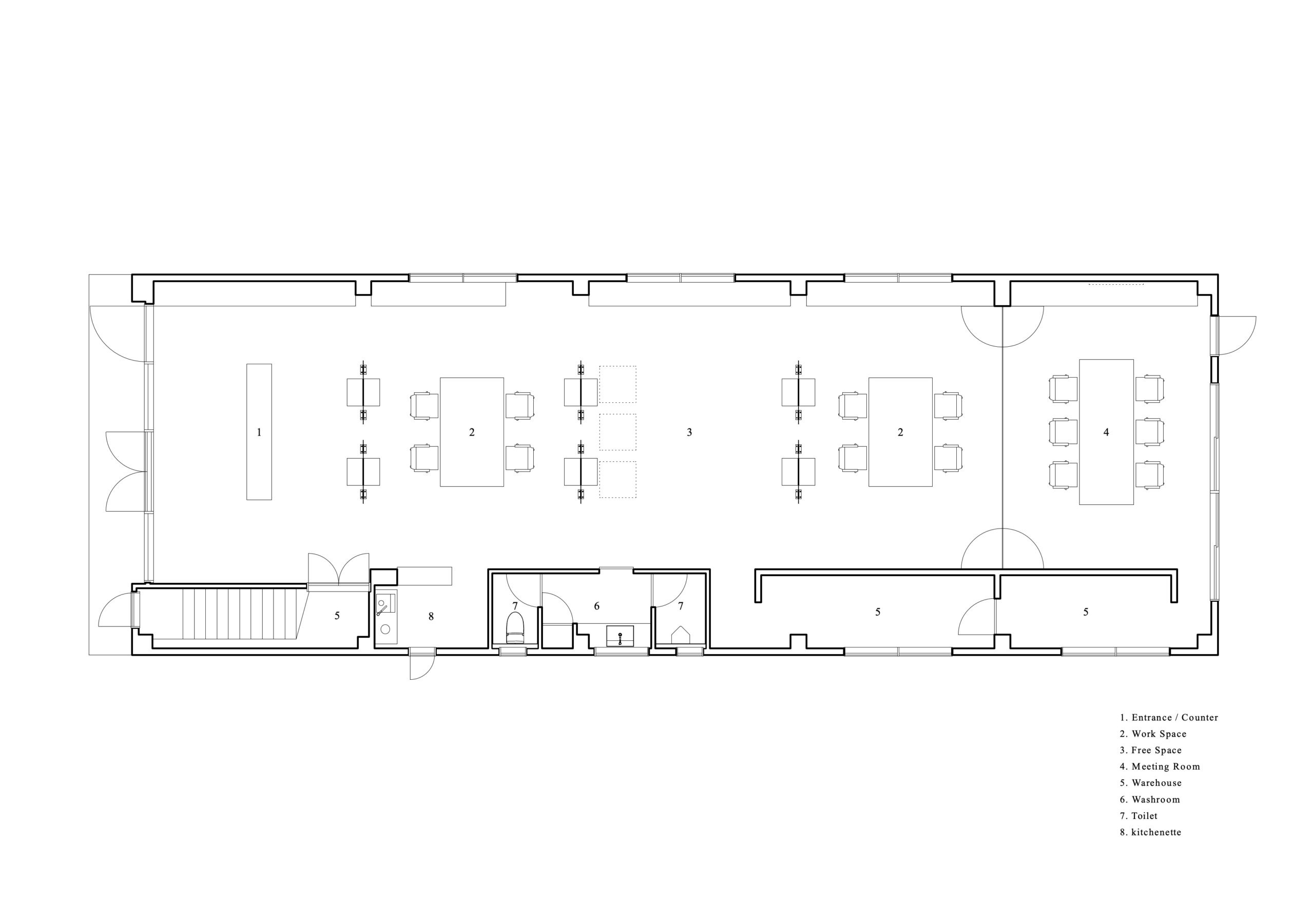 Kitamura Jimuki Office
静岡県・伊東市にてOA機器の販売・システム開発・サポートまで行う会社〈北村ジムキ〉の内装改修計画。
計画地は店舗兼住宅2階建ての1階部分にあたる、間口に対して奥行きのある約200㎡の長方形の空間である。
クライアントから求められたのは、事務作業を行うワークスペース、機器のメンテナンスを行うフリースペース、会議を行うミーティングルーム、備品や資材を収納する倉庫、軽い打ち合わせ等を行うカウンターといった機能的な要望のみ。昨今のオフィス設計にしばしば求められるホスピタリティとは反するミニマムな要望である。
それらの要望に対し、オフィス然とした機能的でありながらも居心地が良く、時間の変化を感じることができる空間を考えた。

空間の構成は、カラーガラスによって各機能を緩やかに分節しながらも視覚的には繋がっている大きなワンルームの空間とし、壁のない改修前の構成を踏襲し使い勝手に配慮した。空間を最も特徴づけているガラスパーテーションは機能を分けるように規律を持って配置。ワンルームの大きな空間をスケールダウンし居心地の良さと作業へ集中できる空間を作り出すと共に、大きな窓から入ってくる光や木々といった環境を映し出し、時間の変顔感じることができるファクターとして計画した。

建物前の道路に対して全面ガラスのあるエントランススペースには軽い打ち合わせや作業が行えるコンクリートのカウンターを配置、外部と地続きである床面の視線を一旦切ることで、カウンターとしての機能だけでなく空間の堰として外部と内部の「間」をつくる役割を担い、居心地の良さにも配慮している。

マテリアルについてはコンクリート、ガラス、スチール、いったインダストリアルなものと相性が良いものに絞り選択。既存の天井を剥がして現れた鉄骨造のフレームもオフィス機器との相性も良く、塗装してそのまま空間に取り入れた。



This is an office renovation project for Kitamura Jimuki, a company specializing in sales, system development, and support service of office automation equipment, located in Ito City,Shizuoka Prefecture.The site is a rectangular-shaped, 200-square meter space with a longer depth than width, occupying the first floor of a two-story building.

The client's request only concerned functional aspects, including a working space for office work, a free space for maintenance work of the devices, a meeting room, storage for equipment and materials, and a counter for having a quick meeting. In contrast to the current trend in office design that often places emphasis on hospitality, their request was minimal.To accommodate their request, we aimed to design a functional and comfortable space suitable for an office that allows people to feel the flow of time.

We created a large one-room office space, where each functional area is loosely segmented by glass partitions while each of them is visually linked to each other. We achieved usability by keeping the previous space composition that had no walls. We placed colored glass partitions, the most notable feature in the new office, in an orderly composition to divide the room into different functional spaces. By scaling down one large room into several areas with glass partitions, we not only enhanced coziness and work performance in the office, but also allowed its users to enjoy the flow of time with the partitions reflecting the outside scenery and natural light coming in from large windows.

At the entrance, fully glazed by a large curtain wall and facing the street, we placed a concrete counter for the workers to have a brief meeting or work on a task. The concrete slab not only functions as a counter but also as a "floodgate," or an "intermediary space" between the inside and the outside, that cuts off the sightline of a visitor, who would enter the office from outdoors seamlessly without any change in floor level.

As for the materials, we selected those that go with industrial materials such as concrete, glass, and steel. The steel frames exposed after removing the existing ceiling matched well with the office equipment, so we applied paint and integrated them into the interior.
---
Location:Ito,Shizuoka,Japan 
Total Floor Area:180㎡
General Contractor:kominka-kobo (Yoshitomo Takahashi)
Photography:Hideki Makiguchi